Improve access to care with at-home UTI testing
Release GP capacity with pharmacy first testing and treatment for UTIs
Detect UTIs with smartphone-powered clinical urine testing
Empower community pharmacies while allowing women the ability to self-test in minutes.
Test
Following a quick consultation at their local pharmacy, patient tests at home using her smartphone
Diagnose
A doctor provides an in-app diagnosis online (or) a pharmacist provides an in-person diagnosis at the pharmacy
Treat
Patient picks up her prescription at the pharmacy
Your website, ordering process, delivery and the app are fantastic. I can't believe I didn't have to leave my house to get very much needed antibiotics delivered to my door in less than 2 hours.
Using Minuteful UTI 
The Minuteful UTI test app and kit make UTI testing as easy snapping a photo. The app walks the user through a simple test, empowering women to test themselves for signs of a UTI. Using colourimetric analysis, computer vision and AI we transform the smartphone camera into a clinical-grade medical device.
Online and pharmacy pathways 
Minuteful UTI expedites the path to treatment while freeing up GP appointments for faster relief.
93%
of women in Lincolnshire CCG who used the service said they'd recommend it to a friend
100%
of pharmacists surveyed would recommend other pharmacists take part in the service
52%
of patients who suffered from 1+ major UTI symptoms, tested unlikely for UTI, potentially avoiding unnecessary antibiotics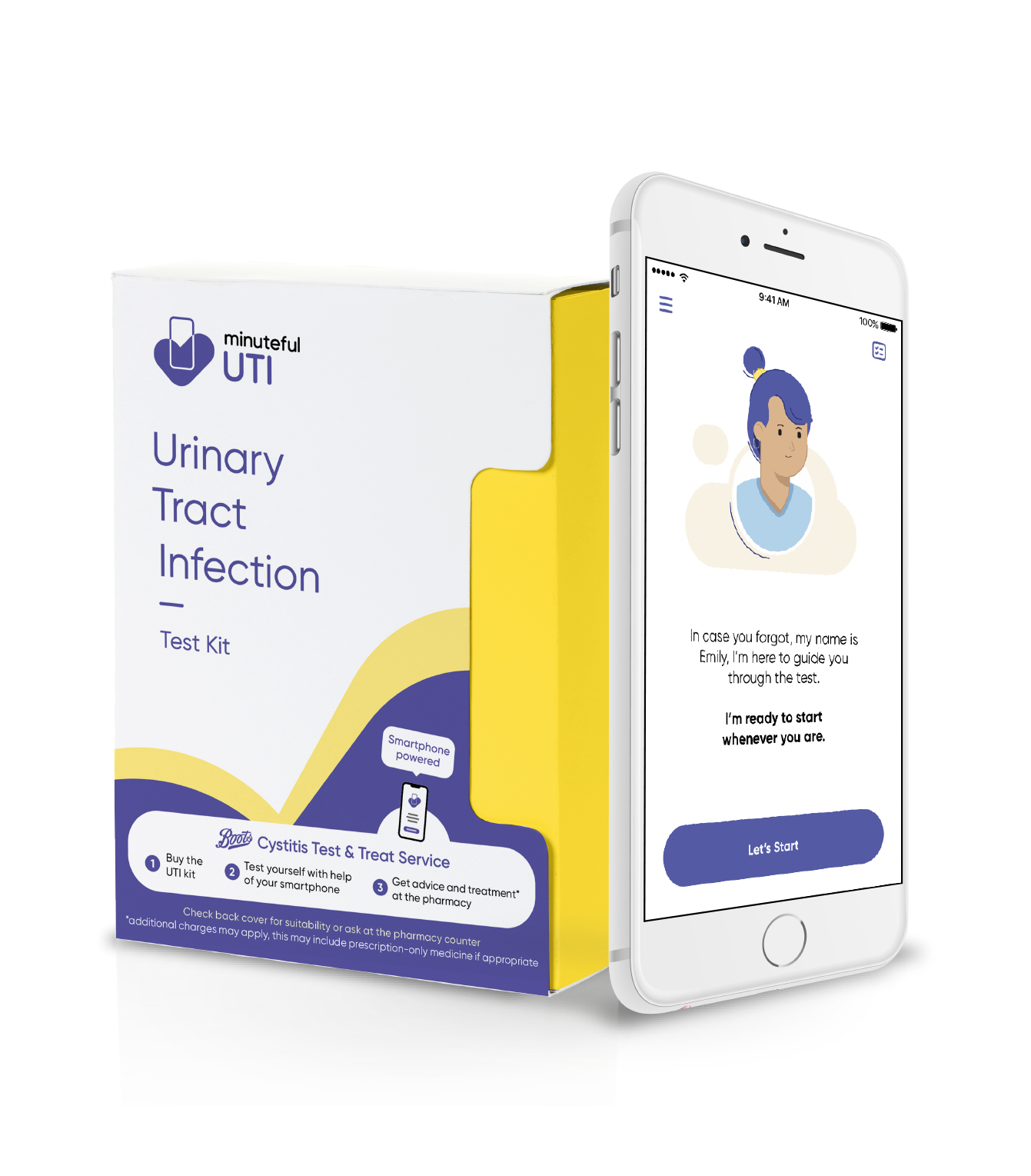 Shift UTI care to pharmacies
Increase access to care
Women can access our service both online and in person, with a diagnosis from an online clinician or a pharmacist.
Seamless and secure
Our solution is CE-marked and GDPR compliant. Results are securely stored in the app and can be shared with clinicians.
Clinically accurate
Our AI and computer vision technology normalises and analyses the dipstick image, delivering clinical-grade results regardless of lighting conditions.
Simple testing
Testing at home is as simple as taking a photo. 99.5% of users say our app is easy to use and most can complete the test in 3 minutes.
Recommended Resources
Effectiveness of UTI Test and Treat
How a community-led pharmacy test and treat service provided accessible and timely care for uncomplicated UTIs.
Read the evaluation
UTIs and the Kidney Transplant Population
At-home testing accurately identifies UTIs and significantly reduces time to treatment for patients with kidney transplants.
Read the clinical study
Empowering Pharmacies
How local pharmacies are becoming one-stop shops for UTI treatment.
Read the blog post
Get in touch to help women access treatment easily